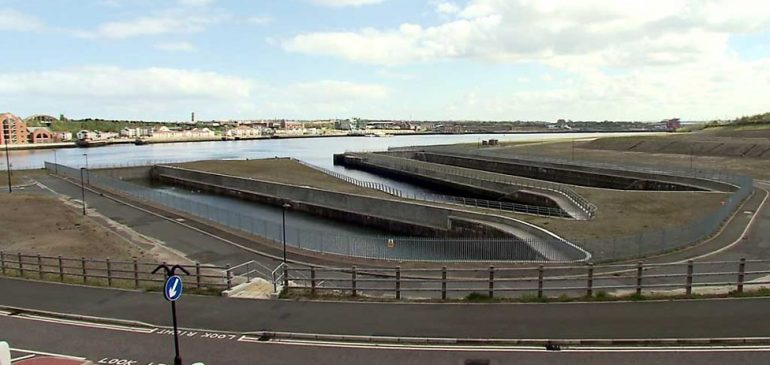 Smiths Dock
It's not often that something interesting in housing and development happens on our doorstep, but Places for People and Urban Splash are in the process of building 34 prefabricated "hoUSe" homes at Smiths Dock North Shields.  These are the first of up to 850 houses and apartments on a brownfield riverside site.
This is a difficult regeneration site which has been a long time coming.  The dock dates from the 1850's, but closed in 1987.  It's taken since 2007 to level the site and get it ready for development.
hoUse is a modern take on traditional terraced housing, using modular construction.  It's great to see something like this going up locally.  There is a lot to like about the rest of the masterplan.  One of the historic docks is earmarked for underground car parking, which sounds odd but is actually a very elegant solution to the usual problem of "where do we put the cars".
The real shame about this development is the way the street design of the bus route through the site lets the rest of it down.  The primary route through the site was built several years ago and has been left pristine and gated.  It's one of two north-south bike routes through the site, the other being along the river frontage, one of which will become part of NCN72.
This street is one of the worst examples out there of the sort of thinking that went on until recently, cycling is on a narrow shared use footway on one side of the carriageway right across what will one day be an active frontage.
These days the local council knows better than to sign off on something like this.  To be fair to the consulting engineers who will have designed it, good practice has changed a lot since this was drawn up.  But the very fact that it will sit right next to well designed buildings is only going to highlight the inadequacies of this street.
It's very difficult to suggest how to fix this so late in the process.  The street is going to take some passing traffic and bus traffic, so it clearly needs some form of segregation for active modes.  But at around 12-14 metres wide there is barely space to do this properly.  On a steeply sloping site developable land has taken a lot of work to create, it's unlikely anyone would react kindly to the idea of giving over more of it to tarmac.
Doing this properly and cost effectively would ideally have meant downgrading and narrowing another street on the site (Ballast Hill) which would have offset some of the cost, but that has already been built as well.  Trying to fix it now would be very difficult, but maybe not impossible, but would cost money which has already been spent.
Hopefully things have now moved on and some of the mistakes that have been made here won't be repeated.  Building great places means building great streets as well as great buildings, let's not forget that next time.  If you're looking to move house locally you should absolutely go and look at what is on offer here, but if I were you I'd avoid the ones which front onto the main street.