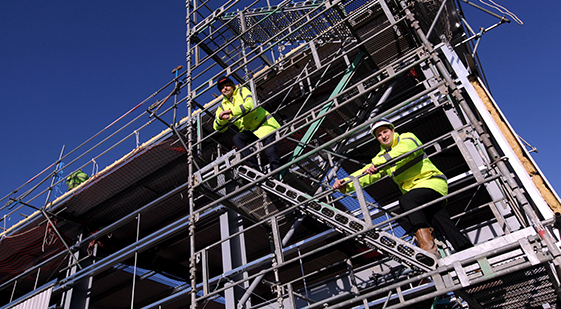 Local Growth
Almere Consulting work on residential development further afield but our commercial development work is predominantly focused on North East England. Both are likely to be impacted by last week's referendum verdict and both will respond to any measures implemented by the UK Government over the coming weeks and months.
Anecdotally post-referendum uncertainty is already impacting on both residential and commercial property transactions. There is significant risk that decisions to delay purchases, leases or investment will rebound through the economy.
The reaction of the financial markets so far has been to heavily discount shares in UK housebuilders on the basis that uncertainty in the underlying market will hit transaction volumes and prices. The government itself now has a significant stake in the housing market from help to buy.
Part of our work is on larger long term housing sites where government policy has been both to try and increase supply of consented development land, increase the number of outlets and in the background push up design quality. The short to medium term impact of Brexit disruption may be to deter landowners and developers from investing in design and infrastructure to bring sites forward.
Commercial Development in North East England has only just begun to emerge from the tail end of the Great Recession of '08. Contractors and Developers have for the past eight years focussed on the student housing market and small mixed use developments. Only recently have we seen decisions made to push the button on speculative industrial development.
The role of government has been key both in priming infrastructure and in a small number of cases such as Newcastle Stephenson Quarter and Sunderland Vaux lending its covenant to kick start development. Many of the investments made with the help of European Structural Funds have been very long term, remediation and infrastructure in Enterprise Zone sites. The investment case has rested on the development of these sites translating into business rates receipts for government, which in the pre-Brexit world looked likely to happen.
In a very small number of cases European and UK Government Funding has been directed towards directly subsidising development. Almere Consulting assisted in securing funding for schemes like Potabello Trade Park Birtley, and right now have three more industrial schemes in the pipeline across the North East and Tees Valley. These projects seem certain to proceed without disruption from Brexit as it's highly unlikely that any government will allow delays in projects which generate short term construction activity and job creation.
Sitting where we are four working days post-referendum there seems a very strong case for government to take on an interventionist role and for short term goals and objectives to be the order of the day. At a minimum we face a tough twelve months.
Thankfully having endured the dismantling of regional government we have now seen it rebuilt under the banner of devolution. In most cases the twined Local Enterprise Partnerships and Combined Authorities are organisationally ready to act as a conduit for a package of Local Growth Funding designed to offset some of the damage done in the last few days.
So what do we need to see? A substantial multi-billion pound injection into Local Growth Funds with a clear set of goals focused on short term-ism.
Immediate gap funding support for commercial projects where planning consents exist and there is the ability to start on site in the next 8 months. Viability Gaps will inevitably have increased in the last few days, but there is potential for them to narrow again as projects proceed. Funds committed now won't in a best case scenario all be needed, in which case they can be reallocated towards long term infrastructure. There needs to be recognition that in many cases this will happen outside the Enterprise Zones many of which are not ready to deliver.
Regional Government investment and intervention in strategic housing sites, on the basis that there is a trade off towards better design quality and faster delivery. Again this is about committing government support now to avoid investment decisions being deferred, in the medium term if we can avoid a return to recession then support can shift back to longer term measures.  The opportunity to improve design quality shouldn't be underestimated.
Investment in short term local transport and infrastructure projects where there is capacity to build quality infrastructure quickly. Some local authorities have the capacity to do this and some don't, competition for funding on delivery and quality are key.
It's unfortunate that we have to think short term, but given the lessons of 2008 we hope that government is willing and ready to make rapid and good decisions. The private sector's role can and should be to deliver, and deliver quickly.