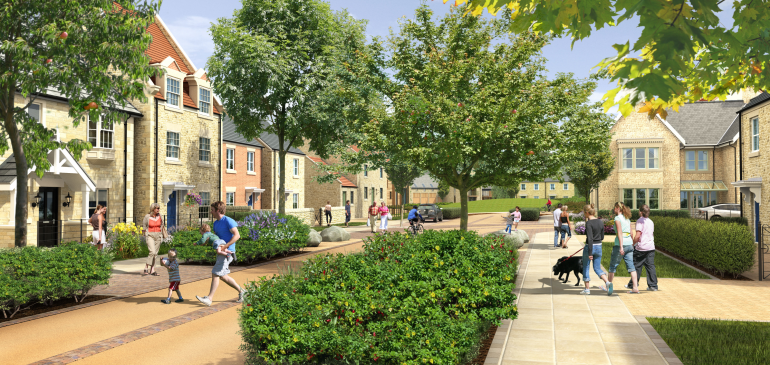 Dissington Garden Village – Exemplar Design
After a lot of work from all involved the planning application for the Dissington Garden Village is now live, and being considered by Northumberland County Council. The project delivers a new village of 2000 homes, as well as nearly half a million sq ft of community, education, and employment space.
A case study on the sustainable transport elements of Dissington is included on our Garden Village Guide to Active Travel.  To summarise here, this is in our view the first UK Planning Application to commit to the delivery of a 250 metre mesh bicycle network, made up of tracks, paths and cycle streets.
Dissington is offering much bigger community benefits (infrastructure) than a normal housing development, £46,000 per dwelling as opposed to the more usual £6000. This is fundamental to the idea of new villages and towns, unlike piecemeal development, they pay their way.  But designing the interior of Dissington so that it works better for cycling than anything elsewhere in the UK isn't actually going to cost anything more than average.
The point of an exemplar is that we show the way, prove that fantastic design for active travel can be achieved even when budgets aren't as generous.  It's about putting things in the right places and careful design as much as it is about money.  This is why it's so important that Dissington gets built and we work with Northumberland to make sure that every inch of it is as good as it can possibly be.
Views on housing development will be diverse, even if you don't feel comfortable lending support to development in general it is still worth making the point that getting an exemplar development for active travel built in the UK is very important.  A link to the planning application can be found here.
Many thanks to anyone able to take the time out to comment and support the application. Click on the link, then click on "comments", then "make a comment".