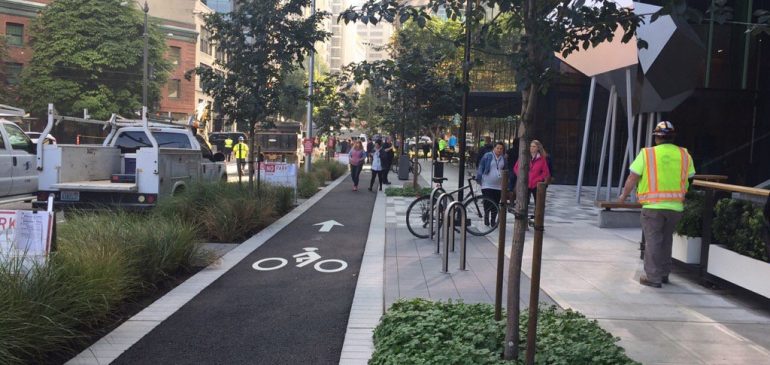 Cycling Urbanism
What is it with New Urbanism and Cycling?
Working in the built environment as in any field there are competing beliefs, theories and ideologies vying to shape projects.  From the point of view of trying to design for high rates of cycling we often draw strongly on successful models from Northern Europe. Working with the aim of creating mixed use urban settlements North American "New Urbanist" ideas are very influential.
There are quite serious differences between the two approaches.  This shouldn't really come as a a surprise, after all with few exceptions North American communities are not designed for cycling and few architects or urban designers have any experience of making it work.  On the other hand some Dutch suburban developments can be fairly soulless and might not transplant well to the UK or US where focusing more on walkability is a priority given our current very low cycling rates.
Dr Steve Melia covered this conflict ten years ago in his paper on Eco Town Mobility saying that "a distinction needs to be drawn between filtered permeability as practised in Freiburg and Groningen, and unfiltered permeability".  New Urbanist communities have been criticised on the basis that "narrow streets, traffic calming devices, and wide sidewalks leave little safe room for bikes". (links do not imply endorsement).
In North America the new Urbanist movement has developed a "Bike Module" which illustrates part of the problem, some commentary screams nervousness about "encouraging cycling while upholding urbanism".  This doesn't appear focused on designing for all ages and abilities "Bicycle lanes and other bikeways that widen the right-of-way are not advised for new thoroughfares….. They are, however, useful for retrofitting overwide existing thoroughfares." – which is fine if you are aiming for a target market of urban hipsters in their 20's but a million miles away from the highly standardised approach to level of service based on traffic volume that has developed in Europe.
As the UK embarks on construction of New Garden Towns and Villages there seems to be an urgent and pressing need to reconcile these competing methodologies.  If we can combine the two then there is the chance to build much better communities which are both highly walkable and cyclable.
What this absolutely can't be about is bolting on sub-standard UK practices onto a New Urbanist layout.  The end result of botched 2 Tier networks simply doesn't work.  Trying to put separated cycling infrastructure on to streets that don't need it is as much of a problem as omitting it from those that do.
What needs to happen is for us to find solutions that take the best of both.  Debate over permeability may be helped by defining thresholds for acceptable traffic volumes and using micro-simulation modelling to test whether these are met.  Urbanists could take on board that dealing with speed is not enough, and sometimes making it less convenient to drive is a good idea.   Resolving the conflict between competing ideas is perhaps at it's most urgent when we look at the High Street.
The modern Urbanist approach to creating a High Street is to see a new settlement's commercial area as centred around one or more multi-functional streets which are movement routes for motor traffic as well as walking and cycling.  There is a strong belief that viable shops need through-traffic and on-street parking.
If we take a step back it seems obvious that the extent to which a commercial area will benefit from through traffic rather than be damaged by it depends largely on two factors:  The size of the walkable and cyclable catchment areas (population); and the willingness of the target population to make trips on foot or by bike rather than by car.
Given the huge differences in travel behavior between the UK, US and Northern Europe it is hardly surprising that we end up with very different thinking on the value of traffic.  To put it simply if hardly anyone cycles, and not enough people live within walking distance then access by car becomes more important.
The Dutch & the Danes frankly have it easy, they can create traffic free (or very low car) shopping areas with a very high degree of confidence that these will thrive.  In the UK and US architects and developers understandably are cautious, however the danger is that by catering to automobility they set in train a vicious circle whereby car dominated streets deter active travel.
In a US or UK context practitioners are probably right to think that a High Street needs traffic movement to thrive up to the scale of a village and smaller town (which isn't to rule out some central streets being low car).
For new settlements there seems little alternative but to design High Streets which offer adequate separation from motor traffic to reflect not only traffic speed but traffic volume.  If we want a street that is a throughfare for all modes and delivers a high volume of shoppers both by car and by bike then this is the reality.  The Urbanist masterplan for Beeston Park near Norwich (Beyond Green / TOWN) appears to be trying to do this.
Looking for examples of these streets in Northern Europe isn't easy, because often they have had motor traffic taken out, but they do exist.  We now know how to design good quality cycle tracks that are easy to cross and function next to car parking, bus stops and across busy accesses.  The challenge is coming up with ways of making them look fantastic and at the same time work for everyone, be they texting teens or commuters.