Almere Limited have an ongoing Research and Development programme directed at the use of computer Vision and Machine Learning technologies in the built environment.
This research builds on our considerable experience in the design and funding of public realm improvements.  Our embedded sensors will track how people and vehicles move within public space, recording speed and direction of travel.
The project will deliver research towards delivery of a System of hardware, software and web technology that will perform real-time monitoring of travel behaviour (mode choice, origin-destinations matrices), street use and traffic conditions (speeds, vehicle class counts).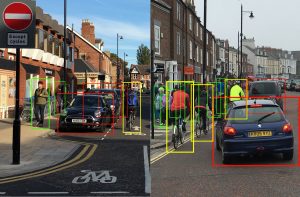 The project will bring together solutions in sensing through imagery, sound, communication networks, magnetic fields, sensor fusion and machine learning to foster implementation of better street design.
Automated detection, validation and reporting will be at core of proposed system to allow for it to run autonomously and provide actionable information in real-time.
Fusion of multiple streams of sensor data will widen the potential spectrum of uses by simultaneously increasing accuracy of classification and providing in-depth knowledge on the behavior of anonymised individuals.
Algorithms and machine learning techniques will be tested and developed to combine data from multiple sensors to detect and differentiate between cyclists, pedestrians and motor traffic. This will allow extraction of actionable information on level of service and observed travel behavior.
The project is supported by the European Regional Development Fund via The Innovation Pathway.